YC1 Series Single-crank Press Machine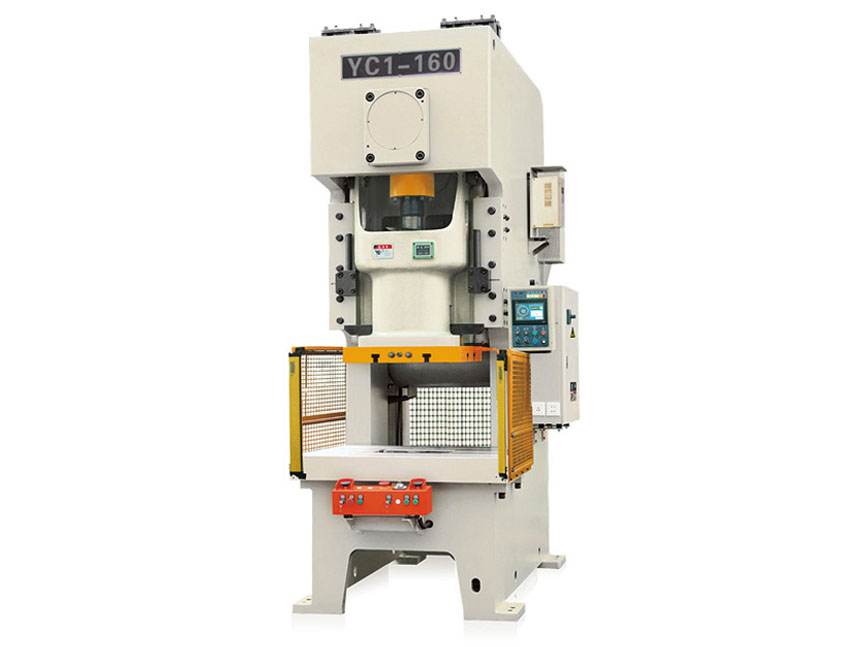 Parameters
Pictures
You May Like
Inquiry Now
YC1 Series Single-crank Press Machine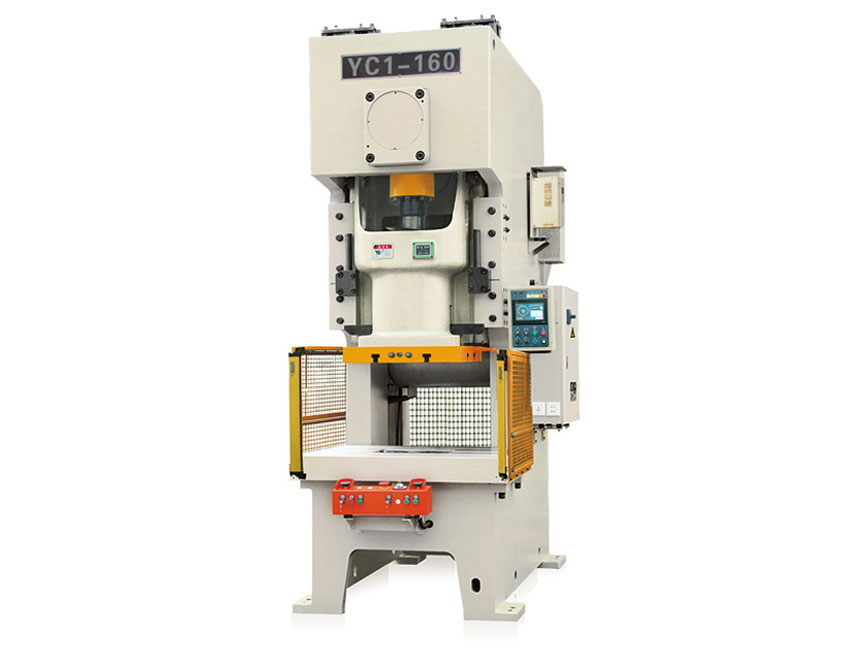 --Main Structure Features
1.Main Structure:This series Press was composed of steel-welded frame, driving, clutch, brake, slide, air pipes, lubrication system, electrical system etc.. This structure was compact and good appearance.
2. Steel welded frame, with aging effect, can ensure the machine high rigidity and less deformation.
3.C-Frame structure, with steady precision, can improve the stamping precision and die serving life.
4. Longitudinal Crank Shaft, short distance between two supporting spot and high rigidity, compact and suitable structure. The gear drives in the oil, with low noise and less abrasive.
5. Pneumatic dry combination friction clutch-brake, mechanical interlock, security and credibility, good stability, low noise and long serving life.
6. Import hydraulic overload protection device, response rapid, working stability, outside oil tank, maintain easily.
7. Six-side long rectangle guides of the slide with high moving precision and high accuracy.
8. Automatic grease lubrication, with Progressive Grease Distributor and alarm system, was controlled by PLC system.
9. Automatic die adjustment device, digital monitor display, high precision achieve +0.1mm.
10.PLC electrical control system allow various auto-equipment reprogrammed according to different requirements and perform various functions, to ensure high reliability and high adaptability. Emergent stop,I nching, single and continuous movement.
11.Three connection parts of air system adopt SMC brand.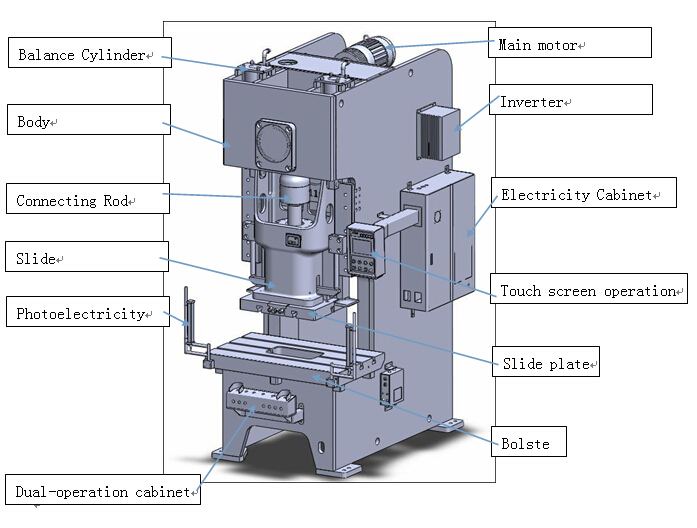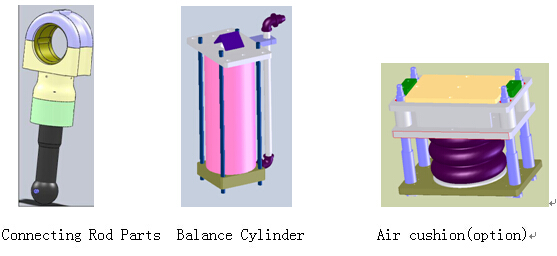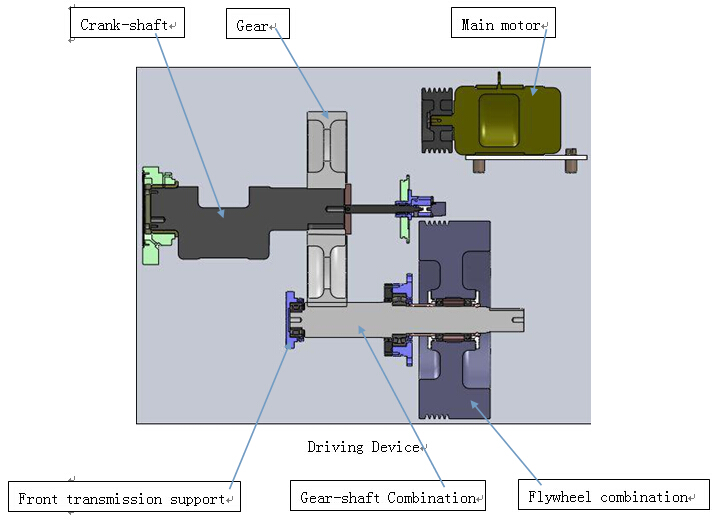 Specification

Model
YC1-25
YC1-45
YC1-60
YC1-80
YC1-110
YC1-125
YC1-160
YC1-200
YC1-250
V
H
V
H
V
H
V
H
V
H
V
H
V
H
V
H
V
H
Nominal pressure
KN
250
450
600
800
1100
1250
1600
2000
2500
Nominal pressure stroke
mm
3.2
2.3
3.2
2.3
4
2.3
5
3.2
5
3.2
5
3.2
6
4
6
4
6
4
Slide stroke
mm
80
30
110
50
130
50
150
60
180
70
180
70
200
80
200
100
250
100
Strokes
Varible
S.P.M
70-110
95-190
50-95
85-175
40-85
80-160
40-75
70-140
30-60
60-120
30-60
60-120
25-55
50-100
20-50
45-80
20-45
40-70
Fixed
S.P.M
75
135
65
125
60
120
60
100
50
90
50
90
45
80
35
60
30
55
Max. die set height
mm
230
255
270
300
300
340
330
375
350
405
370
425
400
460
450
500
450
525
Die height adjustment
mm
50
60
70
80
90
90
100
110
120
Throat depth
mm
170
230
270
310
350
370
390
420
430
Slider area
LxWxT
mm
350x300x50
430x350x60
500x400x70
560x460x70
650x520x80
700x560x80
700x580x90
850x650x90
920x700x100
Bolster area
LxwxT
mm
720x320x70
850x440x80
900x520x90
1000x600x100
1150x680x110
1200x720x120
1260x760x140
1400x820x160
1550x840x180
Hole for punch shank
Diameter
mm
Φ38.1
Φ38.1
Φ50
Φ50
Φ50
Φ50
Φ65
Φ65
Φ65
Main motor powr
KW xP
3x4
4x4
4x4
5.5x4
7.5x4
11x4
15x4
15x4
18.5x4
Slider adjusting device
KW xP
manual
manual
0.3x4
0.4x4
0.75x4
0.75x4
1.1x4
1.1x4
1.1x4
Air pressure
kg/cm3
6
6
6
6
6
6
6
6
6
Height of bolster surface
mm
800
800
800
830
845
845
1020
1020
1120
Capacity of die cushion
Ton
/
2.6
3.6
6.3
8
8
10
10
14
Stroke of die cushion
mm
/
60
70
70
80
80
100
100
100
Effective are of die cushion
mm
/
300x250
350x300
450x310
500x350
500x350
660x460
660x460
660x460
Overall dimensions
F-B
mm
832
860
970
1180
1305
1385
1575
1575
1740
L-R
mm
1060
1350
1390
1755
1935
2010
2300
2300
2345
Height
mm
2165
2375
2585
2685
2915
3020
3675
3675
4000
Weight
Kg
1900
3700
5400
6300
9500
10500
14200
19000
26000