JH21 Series C-frame Fixed Table Press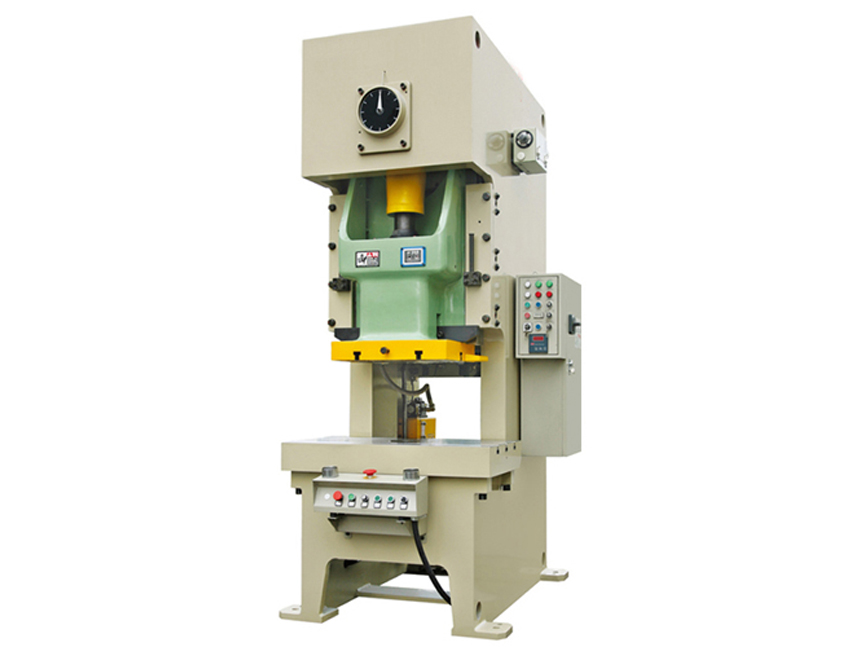 Parameters
Pictures
You May Like
Inquiry Now
JH21 Series C-frame Fixed Table Press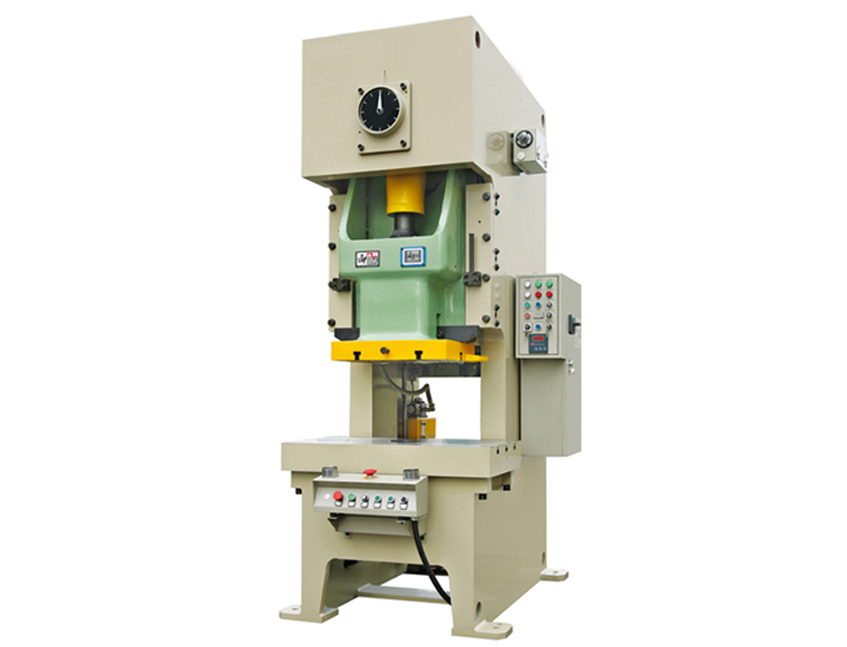 C-frame presses, also known as gap frame presses, open frame, or open front presses, consist of a frame shaped roughly like the letter "C," with a bed at the bottom and a guide and support structure for a moving ram at the top. The frame may be a large casting, or a steel fabrication that is either welded or riveted. The bed, in turn, may be an integral part of the frame, or it may be moveable to adjust the distance between the ram and bed.
The JH21 series C press is with dry clutch and hydraulic overload with steel welded body and good rigidity. This C frame power press has six guide rail sliders, long and high precision, which can prolong its life span.
The crank-shaft is placed vertically, so the structure is compact and the contour is beautiful. It is equipped with combined wet pneumatic friction clutch, so the engagement is smooth, the action is agile and the noise is low. And this crank press is of convenient maintenance. The C frame power press has hydraulic overload protection device which can stop in emergency automatically to enhance the press and die safety for an easy use. This single crank press owns concentrated lubrication system with oil alarm function to ensure that the machine runs smoothly. The high speed press is controlled by LC electric centralized system, with emergency stop, inch, single, continuous operation specification with a drive output shaft, automatic feeding, and air cushion device.
JH21 Series C-frame Fixed Table Press
Model
JH21-25
JH21-45
JH21-60
JH21-80
JH21-110
JH21-125
JH21-160
JH21-200
JH21-250
JH21-315
JH21-315A
JH21-400
JH21-400A
JH21-500
L
S
L
S
L
S
L
S
L
S
L
S
L
S
L
S
L
S
L
S
L
S
L
S
L
S
L
Nominal pressure
KN
250
450
600
800
1100
1250
1600
2000
2500
3150
3150
4000
4000
5000
Nominal pressure stroke
mm
2.8
3.2
4
4.5
5
5
6
6
7
8
8
8
8
8
Slide stroke
mm
80
50
100
70
120
80
140
90
160
100
160
100
180
110
200
130
220
150
250
180
250
180
250
180
250
180
250
Strokes
Vanable
S.P.M
70-100
80-130
60-90
70-110
50-80
60-100
40-75
50-90
35-70
45-80
35-65
45-80
30-55
35-70
25-50
30-60
25-45
30-50
25-40
25-40
25-35
25-35
20-30
Single
S.P.M
90
110
80
100
70
90
60
80
60
80
55
70
50
60
45
50
40
45
35
35
30
30
25
Max. die set height
mm
250
265
270
285
300
320
320
345
350
380
370
400
400
435
450
485
500
535
550
585
500
535
550
585
500
535
550
Die height adjustment
mm
50
60
70
80
90
90
100
110
110
120
120
120
120
120
Throat depth
mm
210
225
270
290
350
370
390
430
450
480
420
480
420
420
Distance between uprights
mm
450
500
560
590
680
710
800
900
950
1050
1000
1050
1000
1220
Table size
L-R
mm
710
810
870
1000
1100
1120
1260
1400
1590
1700
1650
1850
1800
1820
F-B
mm
400
440
520
560
680
720
760
840
880
940
820
940
820
810
Thickness
mm
85
110
130
130
160
160
165
200
200
200
200
200
200
240
Hole of table
Diameter
mm
Φ100
Φ150
Φ150
Φ150
Φ160
Φ160
Φ180
Φ200
Φ250
Φ250
Φ250
Φ250
Φ250
Φ250
Bottom size of slide
L-R
mm
360
410
480
560
620
620
700
880
930
1000
950
1000
950
1000
F-B
mm
250
340
400
430
520
520
580
650
700
720
700
720
700
720
Hole for punch shank
Diameter
mm
Φ40
Φ50
Φ50
Φ60
Φ70
Φ70
Φ70
Φ70
Φ70
Φ70
Φ70
Φ70
Φ70
Φ70
Depth
mm
60
60
60
80
80
80
100
100
100
100
100
100
100
100
Single speed Motor power
KW
3
5.5
5.5
7.5
11
11
15
15
22
30
30
37
37
55
Vanable Motor power
KW
3
5.5
5.5
7.5
11
15
15
22
30
37
37
37
37
55
Overall dimensions
F-B
mm
1350
1410
1615
1915
2200
2300
2355
2690
2830
3400
3350
3500
3450
3900
L-R
mm
950
1080
1200
1385
1419
1480
1515
1630
1750
1950
1900
2200
2150
2250
Height
mm
2160
2300
2570
2820
3190
3220
3250
3810
3930
4180
4100
4500
4450
5255
Weight
Kg
3100
4000
6000
7800
11000
13000
14200
21000
25000
33500
30000
39000
36000
53000